Studio Series Roll-Up Canvas Pencil Wrap
Store and organize pencils, pens, and more in this stylish wrap!
A versatile, serviceable wrap for your creative tools
30 slots and 3 pockets for accessories




Stylish black canvas wrap has stitched leatherette trim and a secure snap closure.
Unrolls flat for access to drawing or coloring pencils.




Protects and organizes




Keep your arts and craft tools in order.
Canvas wrap holds and protects pens, pencils, markers, brushes, an eraser, and a sharpener, as well as crochet hooks and smaller knitting needles.




Great for travel




For on-the go drawing, painting, coloring, or crafting.
Perfect for transporting your tools to art or crafting classes or gatherings.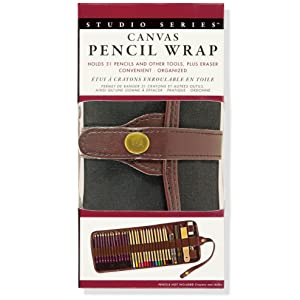 Classic canvas construction with stitched leatherette trim
Strong, secure snap closure
Sturdy stitched canvas wrap is made to last.
Roll it up and secure with a snap!
Saves space in your art kit.
Protects your tools and keeps them organized and accessible.
A versatile and serviceable wrap for artists, colorists, and crafters of all levels.
Please note: Pencils and supplies shown are not included.
About our Roll-Up Canvas Pencil Wrap:
30 elastic slots, plus 3 pockets for accessories.
Canvas construction with leatherette trim.
Secure snap closure.
Wrap measures 19'' wide by 7-3/4'' high unrolled.
Wrap measures approximately 4'' wide by 7-3/4'' high rolled up.